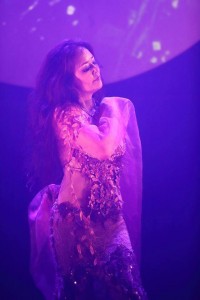 Lesson
Every Sunday, 11:00 am -12:15 noon.
In the first half, we'll practice basic movements, shimmy and turns. In the second half, we'll dance to beautiful oriental music, drum-solo and so on. The class is held in English. You also can learn Arabic rhythms and maqam, Please bring finger cymbals every time if you have one.
Profile of Zelal
Zelal has been studying not only Bellydance with her teacher Nourah, but playing the Arabic music instruments such as the darbuka and the oud.
She has been passionately making  research the history of Belly dance and holding the monthly reading circle by translating comprehensive books from English to Japanese. Her class is so much fun and full with love and enthusiasm for life. Please join and enjoy your life by belly dancing!!
更新日:2019.09.21 Saturday